Our company was established in 2001 and has been manufacturing lightweight stone cladding panels made from marble and granite with projects all over the United States of America. Customers want  to feel comfortable when investing in any type of project, knowing that the company they are going to work with will be able to guarantee its products not only now but also in the long run.
Exterior Natural Stone Cladding
Our professional team makes every exterior stone cladding panel up to the standards and quality required. Every panel is allowed the necessary time in order to be inspected and tested before leaving our facility. The satisfaction of our customers is the main objective of our company. You may rely on our professionalism, honesty and  top craftsmanship. You receive the best quality in lightweight stone paneling, as well as the right price and the fastest delivery time.
Why should you choose our lightweight stone cladding products?
We combine an ultra thin stone sheet reinforced with a honeycomb aluminum or fiberglass honeycomb panel.
This offers three major advantages: you keep the beauty of the natural stone that is lightweight and has better resistance.
Natural stone is a highly desirable product, whether it comes down to construction projects or decoration purposes.
Architects, engineers and designers always go for what's unique and exquisite, and natural stone meets both criteria. The lightweight stone panels are inspired by nature and made possible thanks to high end technology.
Ever since Antiquity mathematicians struggled to find the structure that uses the least material to create a surface and thus have a minimum of weight.
Bees did that for us by creating the hexagons inside their honeycombs. The aerospace industry was already using the aluminum honeycomb core structure and so forty years ago a breakthrough innovation was born: a thin stone veneer reinforced with an aluminum honeycomb backing. The product has been ever since perfecting and the demand for honeycomb stone panels is increasing.
These honeycomb stone panels may as well be referred to as lightweight stone panels as they have their mass reduced with 80 % in comparison with pure natural stone which will create a weight reduction to any finished product.
This means a longer life span. Basically the stone honeycomb panel is a natural stone veneer laminated over a composite of aluminum or fiberglass honeycomb aluminum core.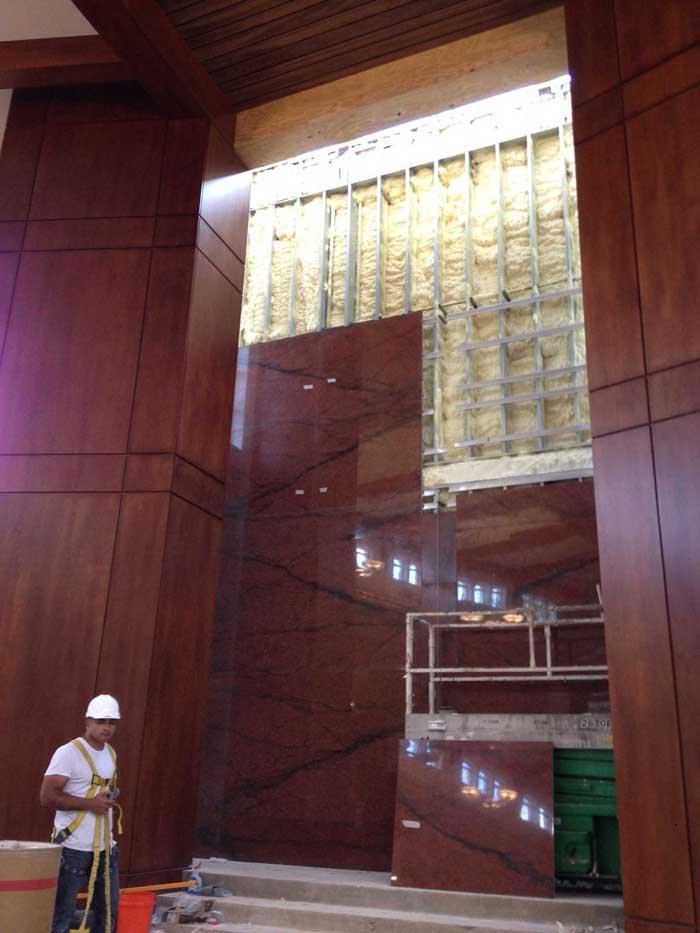 The stone sheet can be selected from any class of stone: granite, marble, onyx, and limestone. This type of composite is now needed on every market offering endless advantages. The result is a steady structure easy to be installed and superior to pure stone in terms of weight, smoothness, insulation against heat and sound absorbing, fireproof and environmentally friendly.
Imagine luxurious interiors and exteriors for facades or flooring , covering yachts, cruise ferries, elevator cabins, wall paneling for every type of commercial and residential building through the process of stone cladding ,and nevertheless for inside usage like interior commercial lobby, decorative wall, shower wall. Wall panels can be easy installed, dismantled and reused for temporary displaying purposes.
We have entered a new stone age where only the lack of imagination might be the limit for our possibilities. You will find it no longer difficult to sacrifice design and style over technical issues.