Stone Panels for Marine Applications
Whether you are remodeling your old yacht or building a new one, you will want interior decoration products that are durable, flexible, lightweight, luxurious and of high quality.


Lightweight stone panels for walls, flooring, countertops, bathrooms, showers, vanity tops or table tops offer you all of those attributes in an easy to install material that is considered to be a high-end upgrade all over the world.
Stone wall panels are made of a thin sheet of stone attached to a honeycombed backing. This lightens each panel and allows it to flex under stress as rough seas can crack or shatter solid stone. So we can keep our target of using stone for decoration using the lightweight honeycomb stone panels.


The honeycomb support structure can be back-lit for added aesthetics when using materials such as onyx. The panels are easy to maintain and are designed to outlast any ship that they are installed in.
Stone panels will not need an extensive maintenance regime.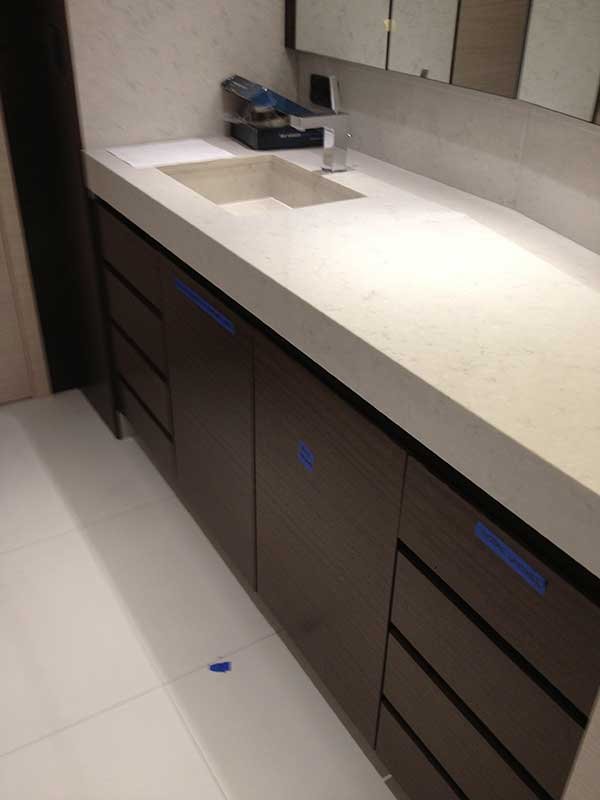 The materials will withstand the normal bumps and dings of a casual cruise or a trip across the sea. The crew of your yacht can easily perform the needed cleaning and sealing as part of their regular maintenance schedule.

No matter how minor or extensive your project is, the materials that you use may affect overall weight and fire load. Lightweight stone panels may actually decrease the weight of your boat, lower your fuel consumption, and will increase your fire safety with a minimal fire load. These new structure are environmentally friendlier and greener than ever before.
Stone panels are the next level for yachting industry. They offer a well made, durable product that is an accepted standard in luxury. On every point, stone is your best option for durable paneling and countertops inside your yacht.

As direct manufacturers of lightweight stone panels we take care of the entire process from helping the customer choose the most suitable type of stone for his project to cutting the panels to specified shapes and installing them.
Covering yachts with lightweight stone marble or granite is all about details. The stone panels for yachts need to be very carefully crafted and the highest quality is absolutely mandatory. In this purpose, Stone Panels USA specially developed a hydraulic press to laminate the stone slab with the aluminum honeycomb panel. The new composite structure is held under pressure for 24 hours, the perfect time period for the two parts epoxy to cure, creating a bond that will hold under any circumstances.
Yachts must be light and luxury should not be a burden. A stone veneer panel will redefine the concept of a lighter boat and is proved to be a key factor in reducing the amount of fuel consumed. This means you get to spend less money on gas and enjoy more the power of your boat swiftly cutting through the waves.
Boats are made to help u
s travel on water, this is their purpose. But in the wide variety of boats man invented there are those who exceed their original purpose and we seek comfort and pleasure. Yachts, catamarans, cruisers especially have numerous rooms and spaces where interior decoration is abundant. Water implies the presence of humidity in the air and moisture inside the boat. In this environment, bacteria, mold and odors will develop. Granite and marble or any other natural stone require a simple maintenance.
Natural stone is easy to clean and prevent such issues. But there is an extra benefit to using stone panels versus pure stone slabs. Water can infiltrate through the microscopic cracks of the stone and reach the wall whereas the aluminum or fiberglass backing of the panels stops the water from going any further.
Flexibility is the most important factor that engineers and architects must deliver! Failing to it may become a very expensive mistake. From our experience of working on yachts, almost every regular stone surface in a marine application will crack at a given moment due to continuous flexing. Marine lightweight stone panels would flex more than ½" on a 10' length without cracking and that stands as a fact.
Beautification is a must for luxury yachts and cruisers especially, and until now having stone covering the walls and floors of your boat, represented compromising the mechanical needs over decorative issues.
Apply Stone Panels USA solutions for yachting and we will lighten up your dreams!