Lightweight Stone Cladding Panels
With the new century architecture we expanded buildings, made them colossal and in the same time improved their structure.
New regulations and a new consciousness developed. We need a greener approach towards any construction project. The architects must take into consideration everything from the weather influence to the challenge of coming up with something unique and timeless.
Ultra thin and light stone panels can only give you the advantage of expanding a construction to its maximum. Lighter walls and floors need less support from the structure. Adding beautiful natural stone facades increases the value of the project. Being able to transform one natural stone slab into two lightweight aluminum reinforced panels using non-toxic materials meets the need of going green for our environment. This means also energy and money savings, the reduced consumption of heat and cooling, innovation and efficiency and a guaranteed long life for any building.
Stone panels offer:
•    Insulation and protection as they are weather resistant. Stone retains heat longer in winter and cools more easily in summer. When stone panels are supported by an aluminum honeycomb, they offer a great deal of flexibility that will help the panels withstand high winds, earthquakes, and external explosions.
•    Light weight-The lighter a building is the longer its lifespan will be. A stone panel weighs 3.2pounds/sqf. while a 2 cm natural stone weighs 12 pounds/sqf.  and 16 pounds if is a 3cm thickness stone.
•    Stylish Finish. Stone panels offer a stylish finish for interior or exterior surfaces. Let's take a look around us at the commercial buildings or even those belonging to public institutions. They are large but unimpressive. They may be old buildings or simply unattractive due to the dull stone they are covered with.
We advise the owners of such buildings to consider an upgrade with lightweight stone panels.
•    Variety of Materials Available. If it is a workable stone, you can choose it for your stone panel. Quartz, granite, marble, limestone, and onyx are just a few to select from. The manufactured panels come in a wide variety of colors and may be combined as pleased to achieve the best appeal.
•    Easy Installation. Easy installation does not mean that this is a do-it-yourself project. The reinforced stone panels are easy to install based on weight and how quickly they can be installed by a professional. There is no need for heavy lifting equipment that can disrupt your business or tear up your lawn. The stucco doesn't have to be taken out. The reduced weight of any marble or granite honeycomb panel definitely offers the most convenient installation and low cost transportation when dealing with worldwide customers.
•    Low Maintenance. Stone cladding does not need any maintenance whatsoever. The occasional resealing of interior surfaces is all that you will face with stone panels.
Stone cladding is mounted on two types of honeycomb material: aluminum foil with aluminum core or fiberglass foil with aluminum core. But why choose Stone Cladding over Natural Stone? Keep in mind three strong points:
•    Strength. Stone has an extremely high compressive strength, which is not necessary and advantage for the 21st century daring architecture. Despite its strength, natural stone is brittle. Being brittle causes it to crack or fail in extreme conditions. Stone cladding does not suffer from either weakness. The natural stone veneer is attached to a fiberglass or aluminum honeycomb backing. That combination allows the cladding to withstand mild to moderate earthquakes, hurricane force winds, and external explosions.
•    Flexibility. Stone, because of its very nature, is inflexible. Stone will crack long before it flexes a single nanometer. Stone cladding is a technology that has been proven to withstand high winds and seismic activity. Flexibility during extreme conditions is just one of the benefits of stone cladding.
•    Stability. Stone has proven that it will warp when it is cut into 1½ "(30 mm-40 mm) slabs. That warping would be slow naturally, but when you add the heating from the Sun and cooling during the winter and the stone will warp faster and more severely. This warping is made worse when the outside of the stone is cooled by the weather, but the inside is being heated or vice versa. Stone cladding does not suffer from those problems. The honeycomb support system prevents warping, while allowing the panels to flex and withstand weather conditions.
Consider stone paneling for: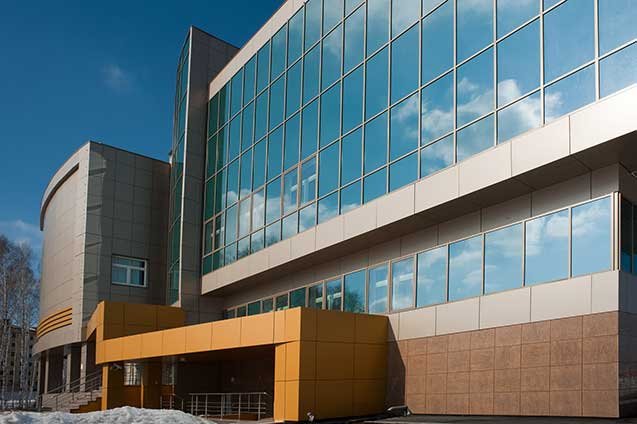 •    Exterior and interior walls of airports and railway stations due to the insulation it provides and the excellent resistance to impacts.
•    Temporary interiors such as exhibitions and showrooms as they are very lightweight and easy to install.
•    Hotels, restaurants, bars, casinos where it may be used for reception entries, walls, bathrooms especially the backlit onyx or stone with different patterns inserted as medallions or mosaics.
•    Bank offices or any other type of commercial building
Lightweight stone panels facades are simply the best choice over any other cladding and the safest way to protect an investment. Add to the multiple benefits of stone cladding the aesthetics and uniqueness that cannot be achieved with any other material but the natural stone sheet you keep at the surface.
The final result does more than satisfying anyone in construction industry, from investors to architects, designers, engineers and workers.